Everybody loves a beautiful kitchen. It doesn't matter if you cook or you never use the kitchen, you still want it to look beautiful.
Lately, most people opt for neutral colours when decorating their kitchen. They go for white, cream, or grey. But adding colour to your kitchen makes it beautiful as well.
There are over 40 colourful kitchen design photos in this article to help you choose the best colour for your kitchen.
Selecting the right colours for your kitchen.
Choosing the right colour scheme for your kitchen cannot be underestimated. Your kitchen is a very important room in your house. It's where you make meals. Where the magic happens.
Your kitchen should therefore be a welcoming space and should reflect your personality.
The colours you choose should mimic a theme, it must go with your kitchen style and space. Let's see how you can choose the colours.
How to pick the right kitchen colour
1. Get a theme
Explore your favourite theme. What do you want your kitchen to feel like? Do you want a minimalist kitchen, a modern farmhouse kitchen, a coastal kitchen, bohemian kitchen, rustic or contemporary?
Figuring out what theme you want for your kitchen will help you choose the right colours for the kitchen.
2. Selecting colours
In selecting colours, look at the items in your kitchen. Cabinets, countertops, the island, backsplash and floors all need the right colours.
Don't forget to select the colour based on the usage of your kitchen. A very busy kitchen might not do well with bright colours.
Where a considerable amount of smoke will come from might need a dull colour so as to prevent early discolouration. Areas that will be frequently visited must also have dull colours.
What colours do you like most? Bright colours or neutral colours.  Cabinets, ceilings walls and doors must compliment each other using your theme. Do not select the wrong combination. This is why planning is essential.
Sit down and map out a simple plan for your kitchen. Use coloured pencils to colour in your plan and see if your colour combination works before you head for the paint store.
3. Colour coding
If you want your colours to speak to you, then code them. For accessories you might need occasionally, colours can be your map.
Just so you remember where you keep your spoons, knives, cookware, wine glass, and all your kitchen accessories and appliances.
People are often stranded looking for where they placed something. Don't be that person- colour code!
4. Get creative
People normally go for basic white and dark colours for cabinets but get creative with other colours. Go bold.
Kitchen floors, walls, ceilings can still have your favourite design. There are variety of floor designs you can choose from. Whether it's tiles or vinyl flooring.
The kitchen doesn't usually give you too many walls to work with due to cabinet space. This should not prevent you from choosing a great design.
Ceilings are the unsung heroes of kitchens. They tie the room together and give you a central base. Get creative with it.
5. Complement the house
Finally, even though your kitchen stands alone, it must complement your house. Consider the lighting and location of your kitchen with respect to the other rooms.
Select your colours to either make your kitchen stand out or blend in. Let your kitchen welcome you into it. Making you feel like you never want to leave your kitchen.
Stunning colourful kitchen design photos
Below are more photos of stunning colourful kitchens to help you decide what colour to go for.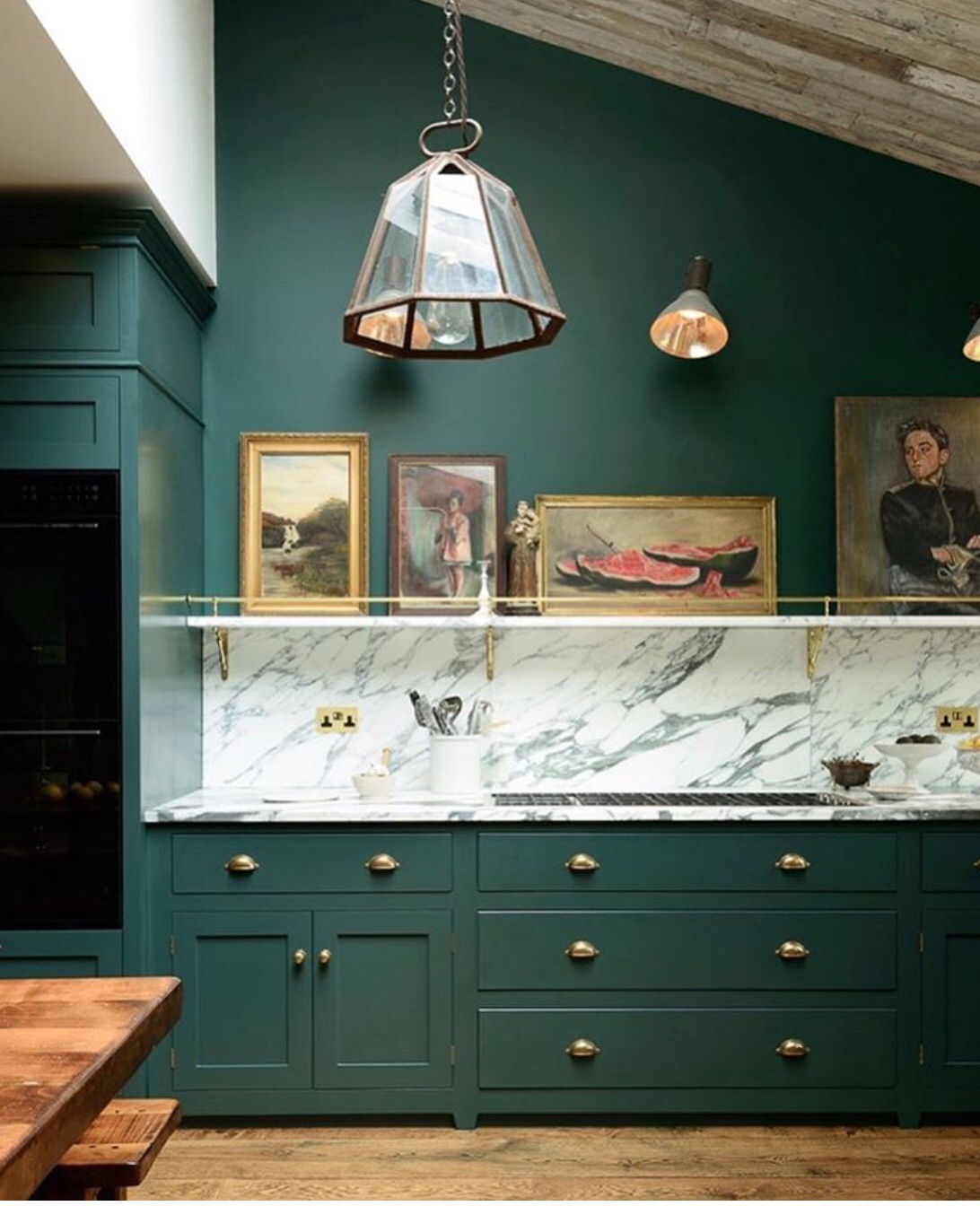 SEE ALSO: 
KITCHEN LAYOUT DESIGN IDEAS


TIPS TO REMODEL YO

UR KITCHEN
MAKE YOUR DREAM KITCHEN A REALITY