LED lights are an amazing technology. They are far more efficient than incandescent lighting; they last longer, and don't consume as much power. It's no wonder why so many people are now choosing to go with LEDs.
Another innovation is LED strip lights. These are easy to install and add more illumination into a room. Here are other creative ways you can use LED light strips in your home.
Creative ways to use LED strip lights
1. Living room
The popularity of LED light strips stems from its flexibility and longevity. Whether you are using it for a specific purpose or for aesthetic reasons, you're guaranteed that LED light strips will do its job.
Every room in the house can benefit from the warm and subdued glow of a light strip, even the living room. A common method to light up any home would be to light up the ceiling.
Install LED strip lights on ceiling
Using an LED light strip, you can create amazing patterns and shapes on the living room ceiling. An ingenious way would be to line up the strips and create a border for a false ceiling to accentuate the otherwise flat surface.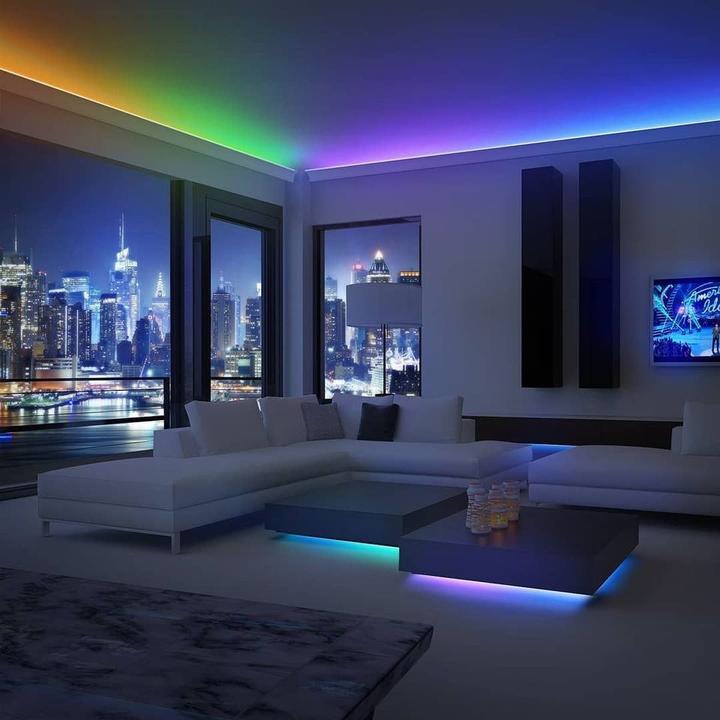 Use LED strip lights to highlight art
Similarly, if you have beautiful art displayed in the room, you can highlight it, even more, using LED light strips. Just stick them behind the frames or along the border of the painting to create an ethereal glow around the artwork.
2. Bedroom
Of course, LED light strips would fit right in somewhere personal like the bedroom. Creative teens started using these kinds of lights as a trendy night light but soon became stapled in almost every bedroom as a sort of accent lighting.
LED strips can be strung up within the ceiling molding to add a softer light into the room. On the same thread, LED strips can be used to create an amazing under glow for the bed and make it a lot easier to get up in the middle of the night.
Or, you can go for a dramatic color like purple or red to contrast the soft lights of the room, giving it more drama and interest.
Finally, you can also use your walls as a means of illumination for the room by sticking those LED light strips on the wall itself.
3. Kitchen
When we're cooking or preparing food, we need bright light in order to see properly. So you would think the kitchen would be a bad place to install a light strip but you're wrong.
LED light strips come in a variety of colors and brightness and they can be used as additional lighting for dark corners in the kitchen. For example, you can put LED strips under the cabinets to give your workspace even more illumination.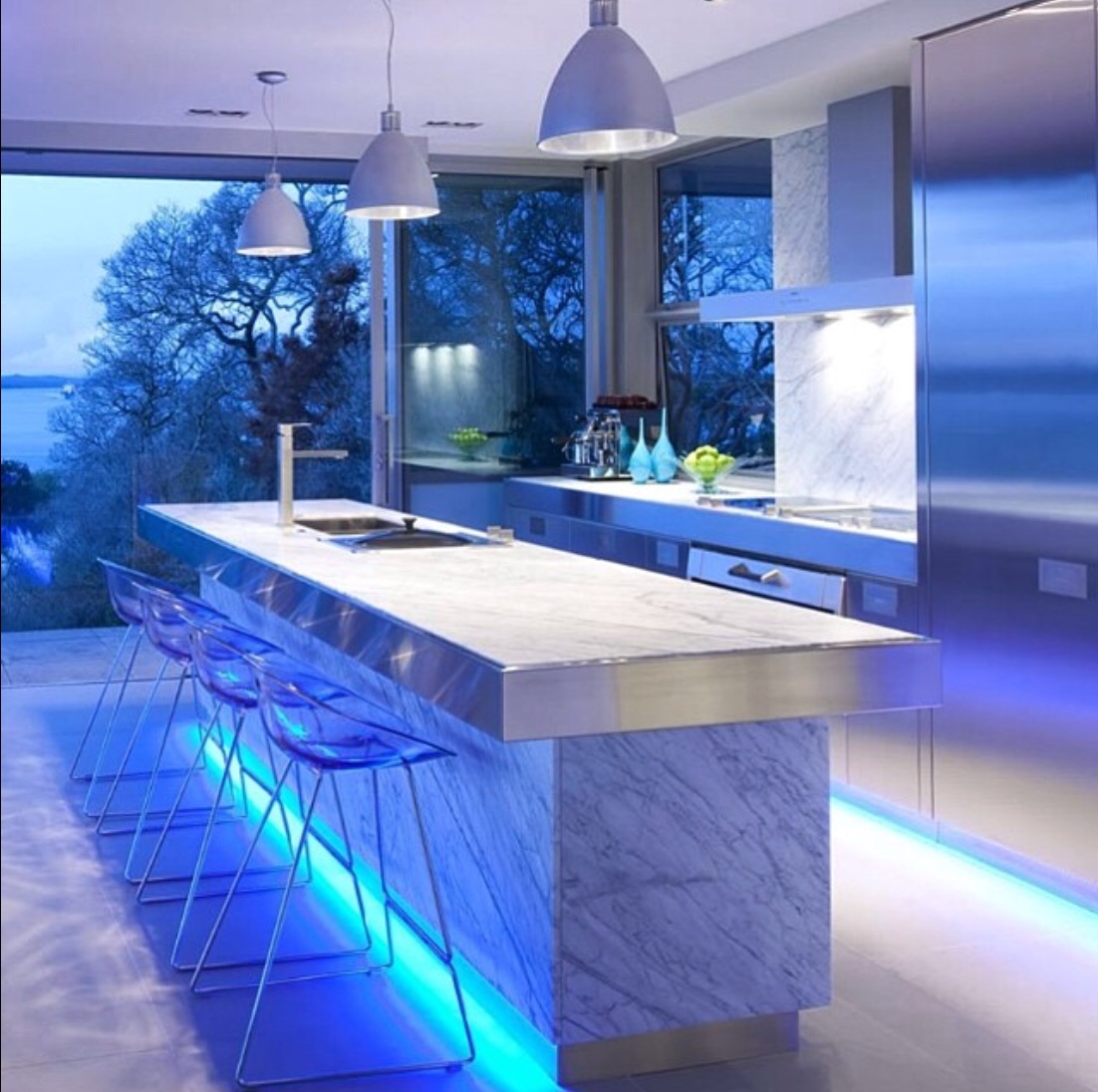 You can also go for something a little dramatic like a different colored light that you can switch on when the kitchen is not in use so you create a space that's truly unique in an unlikely place.
4. Garage
If there is one place at home that could use LED light strips, it would be the garage. Normally, we stuck a single ceiling light in a place that doesn't really see much activity. But if you're going to be using your garage as a place other than to store your car, then you will need additional lighting.
You can install LED strips underneath cabinets and directly onto trusses to give the space a clean and modern look. What's great about these LED lights is, they are fairly inexpensive and should you want to convert the space into a regular garage once more, it's easy enough to remove the strips.
5. Patio and outdoors
On a warm summer night when staying inside is almost sinful, LED strips to light up the patio or backyard seems like a perfect fit. You can place them on steps so they are clearly visible and avoid tripping.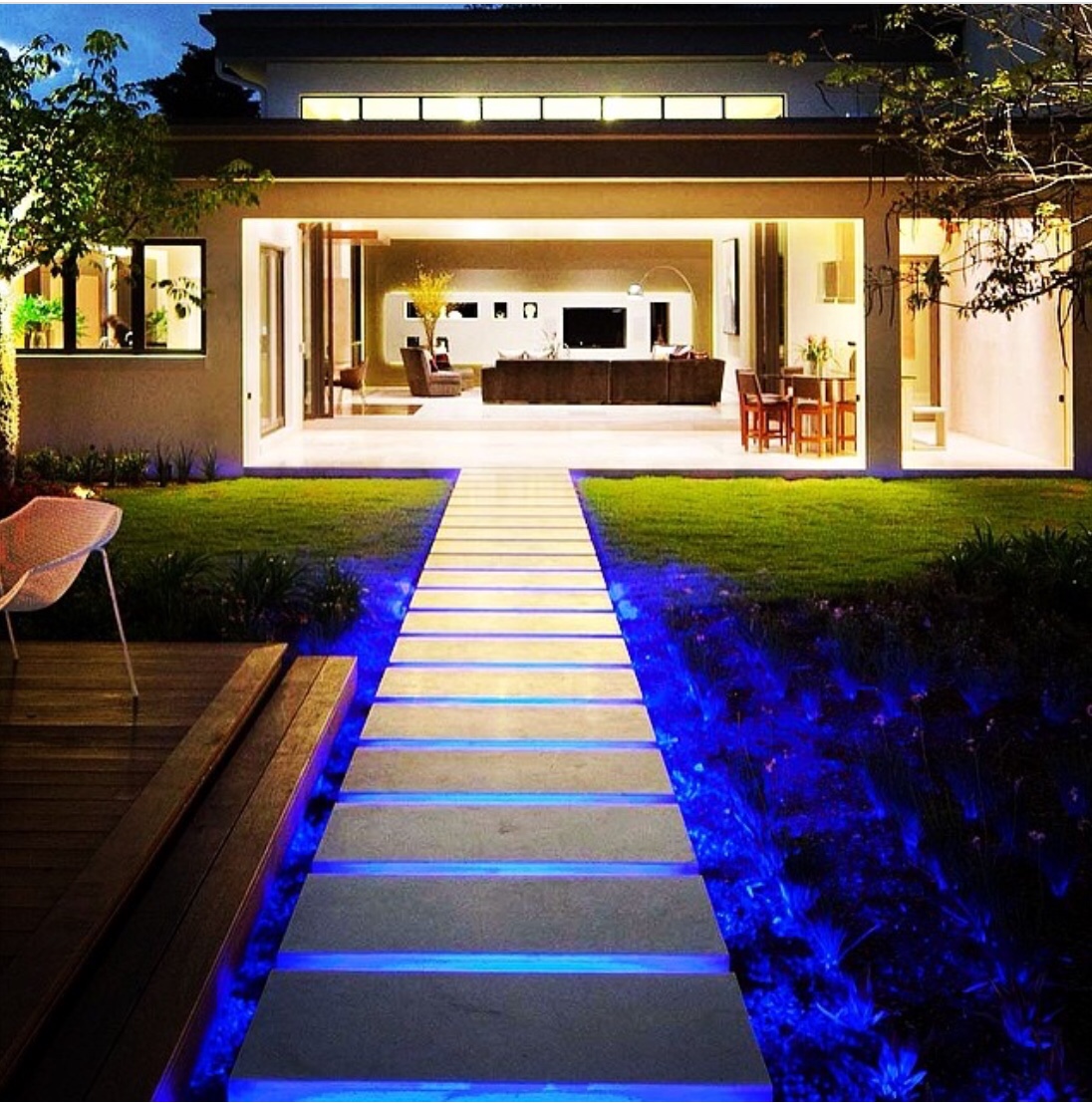 You can install one under tables and chairs for more subdued lighting that highlights the wood flooring. You can even use a waterproof LED light strip to border your swimming pool if you have one to create an amazing night time effect.
You can step it up a notch and decorate trees and hedges with LED to illuminate dark space as well as creating a surreal effect.
6. Library and entertainment
If you are a fan of books and boast an amazing collection in your home, why not highlight your literary passion using LED strip lights. It's a simple matter of putting a strip underneath each shelf so browsing through the titles is easy and convenient, not to mention you pull focus into your collection of books.
If reading isn't your thing, finding entertainment watching TV or playing video games, then you'll love the effect of putting an LED light strip behind the TV.
It will accentuate the appliance, magnifying its size without disrupting your view pleasure. And when not in use, the soft glow behind the TV creates a wonderful effect.
7. Bathroom
Technology certainly has gone a long way. Now, we're not merely stuck with LED lights in one color; we have a whole range of color combinations to choose from.
What's more? We even have the option to choose waterproof LED lights which means we can now use strips in rooms that are normally damp and moist like the bathroom.
You can use strips to line the ceiling of the room. Switch it on instead of the harsh ceiling light as you luxuriate in a nice bath. There is the option of putting strips a couple of feet from the floor running all around the wall of the bathroom for a softer glow for you and your guests.
You can also put LED strips behind a wall mirror to create a great effect as well as giving you more illumination.
The tips listed above are only mere suggestions. What's amazing about LED strip lights is their versatility and ease of installation. You can use it however you want in almost all situations where you need additional lighting or just accent lighting for aesthetics purposes. There's really no limit to their functionality.
RECOMMENDED:
HOW TO LIGHT YOUR HOME FOR MAXIMUM EFFECT
7 EASY WAYS TO INSTANTLY IMPROVE LIGHTING
Author Bio: Sarah Brooks  is an avid blogger and informative content writer who loves to write about home improvement, DIY, travel and more. She is currently working with Pinnacle EventRentals, the leading Party Rentals Winnipeg Company, which offers the perfect solution for weddings, graduation parties, and corporate events.