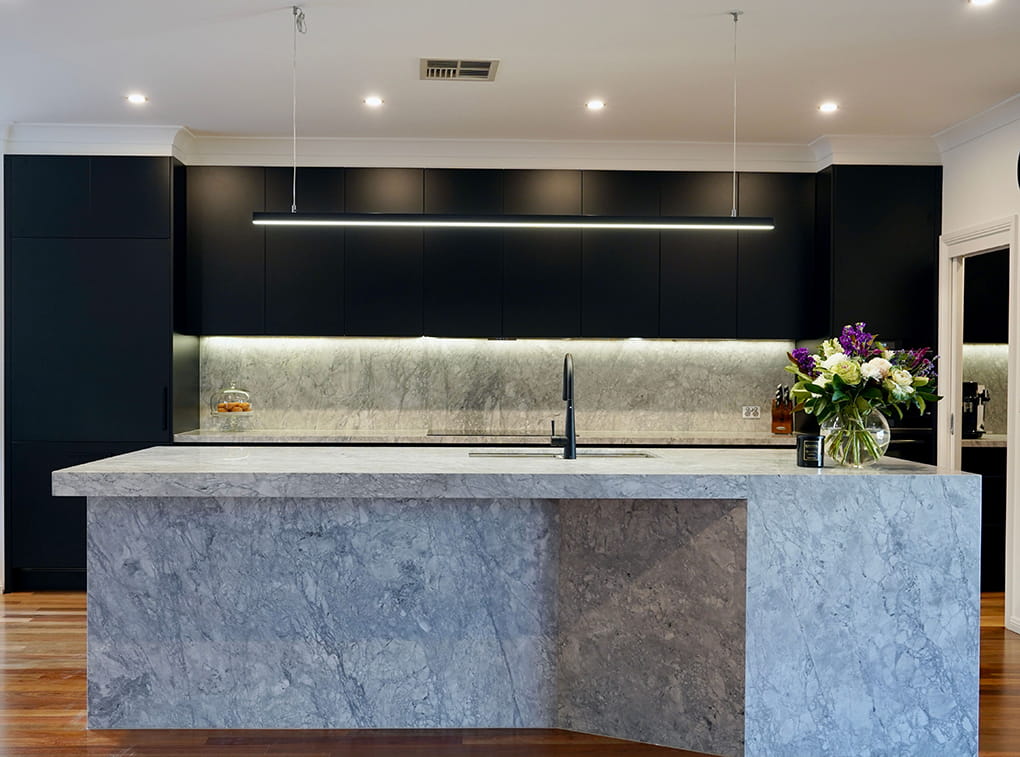 Marble is making a huge comeback as the latest interior design trends shift. Demand for stones that look like Marble has also increased. Modern homeowners seek to blend classic elegance into their projects while staying within a budget. Another sought-after natural stone that looks a lot like Marble is Super White Dolomite.
Super White is a versatile design material that lands between Quartzite and Marble in its price and qualities. Super White Dolomite has grey and white tones that add depth and character to any functional environment.
It adds a touch of sophistication to any kitchen cabinet color scheme or style. Let's get to know the stone just a bit more as there are a few things to go through.
The difference between dolomite and marble explained
Dolomite is a white and grey-colored sedimentary rock formed when limestone and lime mud react with groundwater rich in magnesium. While this natural stone is often mistaken as Marble or Quartzite, it has distinct features that identify and distinguish it.
Let's look at the differences between Dolomite and Marble by comparing the two stones in a few categories. Dolomite would be a better fit for your design project compared to Marble.
Maintenance and longevity
A Super White Dolomite Benchtop will have a long and beautiful life if properly cared for, frequently outlasting Marble in the long run. Dolomite can generally handle liquids and acids better than Marble over time due to its higher amount of non-porosity. Even so, this stone does not come without some upkeep. For durability, it must be sealed regularly.
Hardness and durability
A Super White Dolomite Benchtop has a better durability rating than Marble, owing to its thick mineral composition. Super White Dolomite Countertops, slightly more rigid than Marble Countertops, are more resistant to scratches and heat.
Affordability
Super White is generally less expensive than some prized Marbles and other quality stones, such as Quartz and Granite.
Application
Super White Dolomite is perfect for any use where Marble would be appropriate. Super White Dolomite Kitchen Benchtops or splashbacks are a great alternative to Marble for interior use. It has fewer pores than Marble, making it less susceptible to stains and water damage.
It's also heat-resistant and far more durable than Marble, making it less prone to chip, shatter, or scratch. Super White Dolomite is also an excellent choice for bathrooms and as a flooring material.
Related Posts
Color scheme
Super White Dolomite has a lovely depth to it thanks to the toned grey and contrasting grey veining. It is ideal for creating a stylish environment.
Super White Dolomite is intricately textured Dolomite with a pattern created by intersecting lines that catch the eye. Its subtle yet memorable grey and white coloration make it an excellent choice for Kitchen Benchtops, Countertops, flooring, and interior walls.
Maintenance
While Dolomite is a robust and resilient material that can last a lifetime, it does require some simple upkeep, just like any other stone. To avoid damage and safeguard your Dolomite surfaces from moisture, we recommend sealing them regularly. Any spills should be cleaned quickly. Knives and other sharp objects should not be used directly on the stone.
Regardless of the intended function, Super White Dolomite is becoming increasingly desirable for countertops. They are, however, most frequently utilized in kitchens and bathrooms. Super White Dolomite Benchtops are an excellent choice since they provide various advantages in terms of utility and durability, as well as a stunningly unique and glossy visual appeal at a lesser cost.