Who doesn't like colors? And if you are wondering if we will talk about color paintings or wall paintings, you are highly mistaken! We are talking about the use of floral wallpapers to brighten up your home with colors.
Everyone likes flowers, right? The bluesy blooms to dainty daisies. They often add character to any room besides making it bright. And their timeless beauty makes them a perfect option across different classes.
Whether you want something that's a perfect fit all year round or something that can make you cheer on a dark, gloomy winter, you will have a perfect floral wallpaper for you. Are you wondering how you can add color with these super cute floral wallpapers?
Keep reading this article for more information! So, let's begin!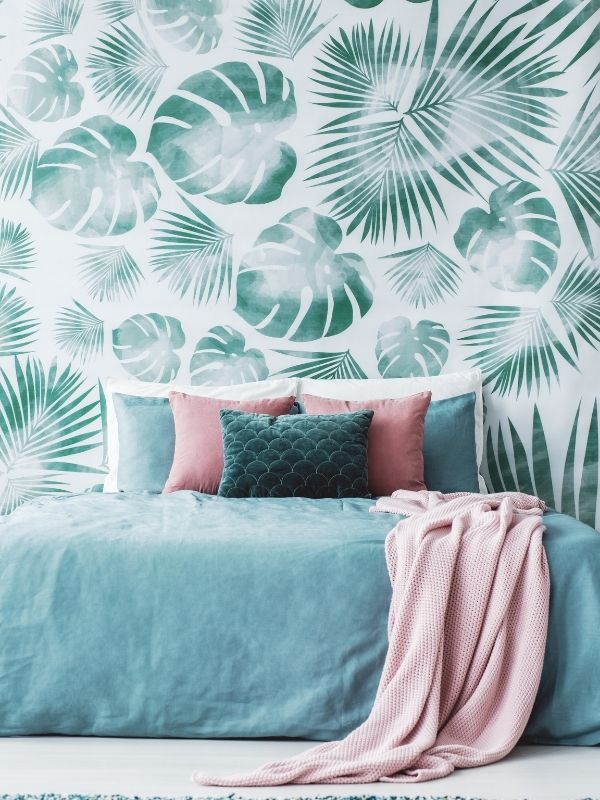 Floral Wallpapers for your Bedroom
If you want to change or redecorate your bedroom, floral bedrooms are a great way to do it. It does not only add a feminine touch. Instead, it will give your bedroom a colorful and dramatic touch as well. You can try going with one accent wall and choose the colors as per your wish, style, and feel.
For example, if you are trying to instill a feeling of "serene," you can easily create it using a decoupage technique. In this, all you have to do is use blue chalk paint, apply the floral wallpaper once the color gets dry, and then wash the shade to give a shaded look.
However, you can also cut short all the work by simply ordering a blue floral peel and stick wallpaper or customizing it as per your preferences.
If you are looking for something naturally calming, then pastels are a good choice for your bedroom. You can opt for a pink floral wallpaper such as wildflower blooms, floral medallion, bold floral, and so much more to give your bedroom a classy yet colorful touch.
Floral Wallpapers for your Kid's Room
If you have a daughter, using a floral wallpaper in their room will be simply next to amazing. You can opt for pastels to create a romantic space for them. Or you can also go for bold colors to make your girls feel like summers.
For instance, using colorful floral wallpaper will add cheer to their room. You can also watercolor rose self stick wallpaper, amelia blossoms, watercolor roses, and similar patterns to give some substance to your princess's room. You can also add some elegance using a classic floral stripe wallpaper to create a Scandinavian look.
Floral Wallpapers for your Kitchen and Dining Area
Usually, the kitchen is a place where you spend more than half of your waking hours. So, you need to make it appealing to smile at you every time you enter. The colors or prints are upon you. A floral wallpaper will give you a refined look. If you want it to be dark greens and neutrals, you can choose a moody floral wallpaper. You can use bold pink or green colors to create a more romantic dining space.
You can use a super colorful blue wallpaper with bold floral prints if that doesn't work for you. It will help you create a cheerful summer kitchen. You can also make colorful wallpaper and match it with cushions in your dinings area. You can also create a blooming, beautiful hallway leading to the kitchen and the dining area.
You can also create an accent wall for your dining area by creating a mural effect. Use a watercolor texture and create a delightfully floral mural. And it will create an eye-catching feature.
Related Posts
Floral Wallpapers for your Bathrooms
When using floral wallpaper, who said you have to stick to only bedrooms, hallways, or dining areas? You can use it for your washrooms as well. It is quite a hot trend. In this, you can use one wall or use all of them to give it a refined touch.
For instance, you can opt for a blue floral wallpaper or go gold with a green wallpaper with yellow floral prints to add cheer to your bathroom. You can also go for a realistic floral wallpaper to add an exquisite feel to this room.
You can also go nature-inspired or look for archival designs if you want to bring arts and crafts into this day. The choice is indeed yours.
Floral Wallpapers for your Living Room
Your living room is something where you, your family, your guests, and many others spend time. It needs to look timeless and chic at the same time. You can opt for bold floral prints and add a lovely feel to your living room. You can even go for soft pastels if you want to create a spring feel.
You can also go for dark shades of floral wallpaper and create contrast if you have dark furniture. You can also create a gallery wall using floral wallpaper to give some character to your living room.
If you are a flower lover, you can use elegant flowers or trails for your walls to bring the beauty of florals inside. You can also repeat a pattern to give your summer meadows a feel. If you have a fireplace in the living area, you can create a statement by adding a moody floral design around it.
That's not all!
You can also use the floral wallpaper to line anything. For instance, you can use it on the steps, furniture, and other spaces as well. For example, you can spruce up your old dresser by covering its sides with floral wallpaper. You can do the same with your cupboards as well.
Conclusion
Adding color to your home using cute floral wallpapers will not only upgrade its look, but it will also add character to your abode. So, the next time you are unable to do a complete remodeling project, you can use colorful floral wallpapers and redecorate and revamp your house in a time-efficient manner.
So are you all set to do it? If not, take some ideas from here and do it right away!