A healthy breakfast is a great way to start the day. It provides you with enough energy to keep going all day. In the summer, people all over the world seek out methods to combine flavor and healthy nutrition while also providing relief from the oppressive heat. Smoothies for breakfast can certainly pave the path for good health and enjoyment throughout the hot season.
By blending your fruits and vegetables each morning, you can drink your way to a healthier breakfast. These summer smoothie recipes will start your day off right by incorporating nutrient-dense fruits and veggies, as well as protein-rich yogurt and milk, to provide an energy boost that will last until lunchtime.
How to make smoothies
Making a smoothie is nothing difficult. Everybody can do it even if you don't have any cooking skill. This is because it is as simple as tossing ingredients into a blender and blending it, but we want to make sure you get it right the first time, so this is our exact steps to make some nutritious smoothies.
Fill your blender halfway with liquid. You can use unsweetened milk, or any other milk, fruit juice, or even water that you prefer.
Any fiber foods can be included. This is the moment to add spinach, kale, mint leaves, or other greens if you're using them.
Now is the time to combine your frozen fruits and veggies in a large mixing bowl. For smoothies, it is great to add some frozen fruits. These can be frozen bananas, frozen strawberries, frozen watermelon, or whatever frozen fruit you have.
You can use any fresh fruits or vegetables you like. Here's where you'll toss in some fresh strawberries or freshly chopped mangoes.
Add your favorite nutrition add-ins to finish it off. Add protein powder, chia seeds, collagen, turmeric, or whatever else you choose to increase the smoothie's nutrients.
Blend it up! Start your blender on low and gradually increase the speed to full. This ensures that everything is thoroughly blended and that the blades do not become stuck. Blend until it is silky smooth, then pour and enjoy.
Summer smoothie recipes to make
Melon cucumber and mint smoothie
This recipe contains sea moss gel which is considered a superfood because of its beneficial effect on the immune system. Sea moss contains potassium chloride, which helps the body reduce inflammation and people take it to minimize their risk of infection.
1/2 honeydew melon [including seeds]
1/3 pieces of cucumber
1/4 cup of Irish sea moss gel
Spring of mint leaves
squeeze of lime
---
Berries and beets smoothie
The dandelion leaf included in this recipe makes it even more healthy They aid in the filtering of potentially toxic substances from your diet by your liver. Dandelion is also high in Vitamin C, which is one of the most important vitamins for the immune system.
1 cup of frozen mixed forest fruit berries
chopped ginger
chopped carrot
1/2 medjool dates
vegan protein powder
dandelion leaf
chopped raw beetroot
coconut milk
celery
---
Mango strawberry and banana smoothies
1 mango [peeled and coarsely chopped]
1/4 cups total of plain low-fat yogurt
2 tablespoon honey
1 tablespoon freshly squeezed lime juice
pinched of freshly grated lime zest
1banana [peeled and chopped]
10 medium-sized strawberries
1 tablespoon freshly squeezed lemon juice
Pinched of freshly grated lemon zest
---
Strawberry wine smoothie
1 bag of frozen strawberries
2 cups of light red wine
Strawberries and blackberries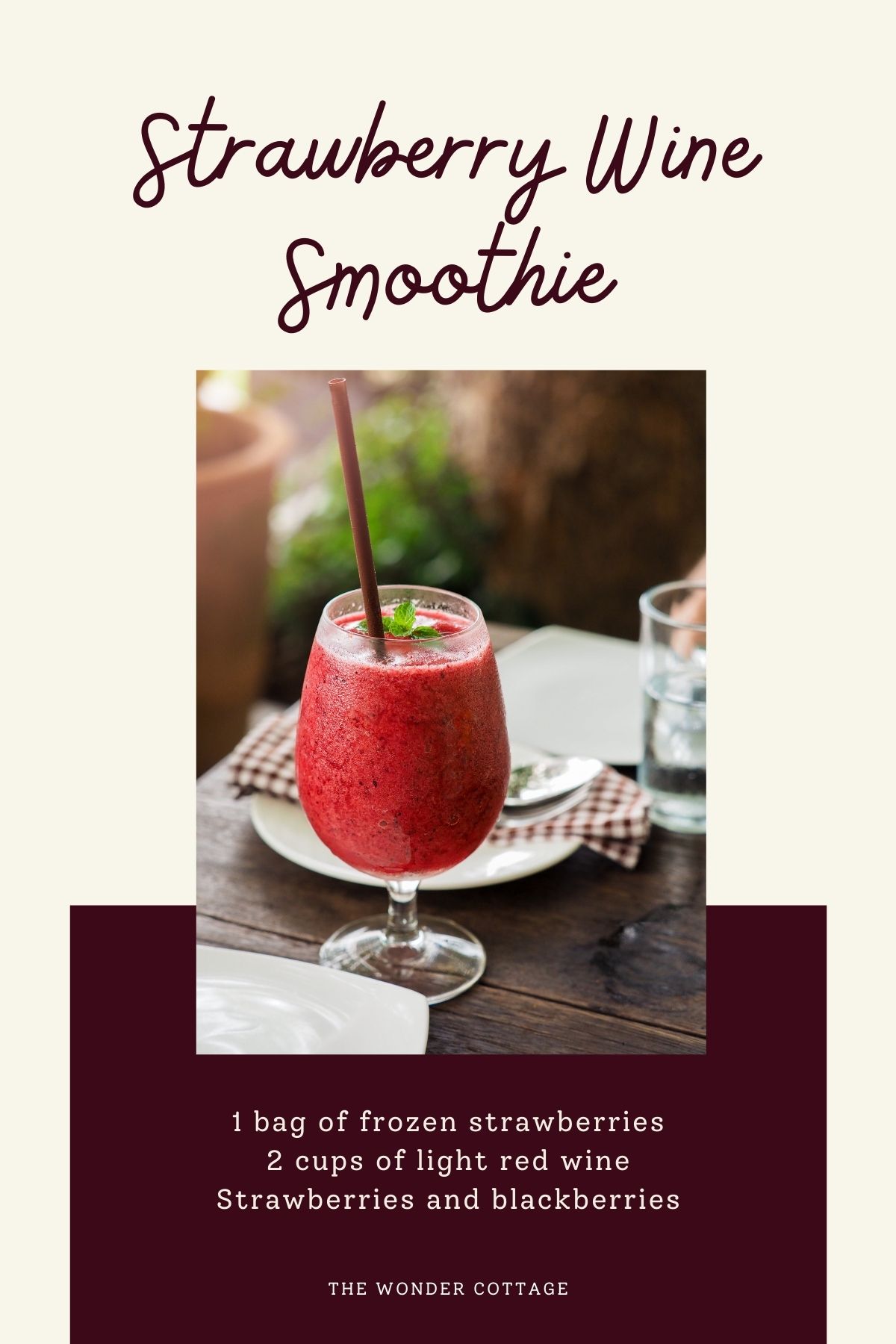 ---
Pineapple and banana smoothie
1/4 fresh pineapple [peeled and chopped]
1 large frozen banana, cut into chunks
1 cup pineapple or apple juice
---
Banana mango spinach smoothie
1 cup spinach fresh
1 cup of water
half cup of mango
1 banana peeled
---
Cacao smoothie
2 cups of chilled soymilk
1 cup of frozen raspberries
2 small fresh figs
1/2 cup of cashew nut
2 tablespoons of raw cacao powder
1 teaspoon of maca powder
1/2 teaspoon of maple syrup
---
Blueberries, kale, and pineapple smoothie
Pineapple smoothie ingredients
One and one-quarter cup of frozen pineapple
One and a half cup of orange juice
Blueberry and kale ingredients
1/4 cup of mint leaves
6 oz blueberry
1 cup of curly kale
---
Pineapple and blueberry smoothie
Pineapple
Greek yogurt
Almond milk or the milk of your choice
blueberries
kale
water
---
Blueberry and banana smoothie
2 cups of yogurt
1/4 cup of blueberries
1 banana
1 tablespoon of honey