Decorating kids rooms and adults rooms are two very separate things. Children want to have fun and they are all about imaginations and creativity, hence it is important that this manifests in their room.
You can do this with colorful wallpaper for kids and also display some arts on their walls. One thing you must however remember is that, when it comes to kids, preferences change.
So your child may be interested in Spongebob this summer and by winter he doesn't want that anymore, he prefers Pj masks. So when decorating kids room, it is advisable not to use permanent things that can not be changed or will be difficult to change. That is if you are going for themed rooms.
Now with shared rooms, you have to make sure that the room is decorated in a way that both kids will be happy with. This can be very difficult to do, especially if they both prefer different things.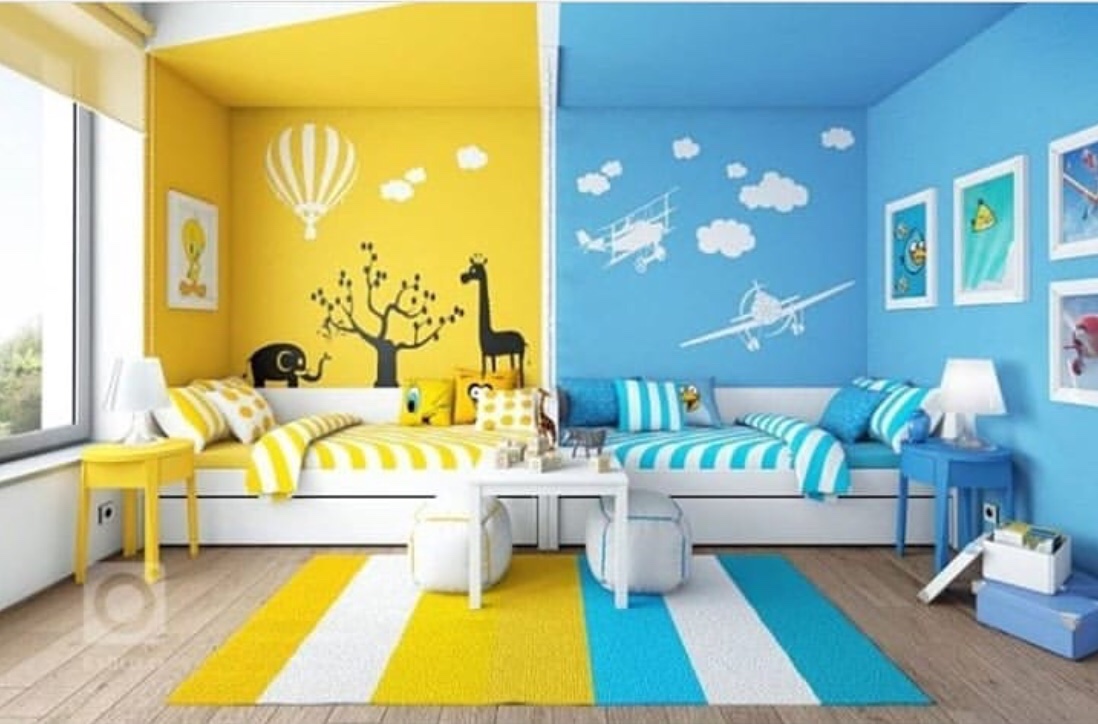 How To Design A Shared Room For Kids
There are different styles and colors you can blend when designing your kids' shared room. You can also come up with some innovative ideas to create enough space as your kids playing zone.
To create more inspiration for the kids within the shared room, you can use wood wall and wallpapers to make them more stylish and interesting.
Having a shared room can create some bond between your kids causing them to start sharing things together. Designing shared room for boys and girls won't be the same as designing a shared room for both gender but remember there is always something for everyone.
Here are some great ideas on how to design shared room for kids
How to design a shared room for boys and girls
This may be kind of difficult when designing the shared room because every kid would like to see something they like in the room to make the room feel personal to them like they had the room to themselves.
But don't worry, you still can blend up things that will interest each child. Find something which will make both of them happy whiles sharing a room.
1. Pick Each Kid's Color
Since each kid has a color they really love and they want to see in their room, you can use that when designing their shared bedroom. If you are not sure what their favourite colors are or what colors they want to see in their room, simply ask them.
Now use both colors in the room. One fun and simple way to do this is to paint the room in both shades. So paint one half in one color and paint the other half in another color. You can also use wallpapers in their favourite colors to do this.
You can also use their favourite colors for their bedspread. This makes it easy for each kid to know their territory because wherever they see their favourite color, that is their side of the room.
2. Choose bunk beds
Bunk beds will always be a tremendous idea when it comes to designing a shared room for kids. It's also one of the popular choices which is desired by most kids.
3. Try Neutral
To prevent any argument on which color to use for the shared room, as a parent you can simply go for a neutral color like white. This won't be in the favor of any of them. So using neutral is also a very good idea.
How to design a shared room for girls
Designing shared rooms is a lot easier if they are both of the same gender. Even so, it can be somewhat tricky because again, every child is unique in their own way and as such might have their own interests.
So you can ask for their ideas on how they want their room to look like, that way they will both be happy with it when it's done. Everything about girls is elegant and pretty, therefore when designing their shared room make sure that these things are seen.
1. Use wall arts
You can use floating shelves to display some beautiful arts. You can also use some pretty wall arts and decals. When choosing wall decals for kids room, go for the easy to peel off ones. That way when they are no longer fond of it and want a change, it will be easy to do so.
2. Encourage Individuality
Allow them to express their sense of creativity by using their personal styles and designs for decoration. Let's them beautify their private space with their own innovative skills. This will make them feel a little independent and also comfortable with each other's ideas.
3. Include Names In Decor
You can decorate the room to make them feel unique and special by including their names. You can do this by putting their names on the wall or customizing their pillows or blankets in their names.
How to design shared room for boys
Again, you should remember to include each child before you start decorating. Ask them what their favourite things are and use that to make the room special and playful for them.
1. Choose a theme
To decorate a shared room for boys, choose a theme. Is it going to be a superhero themed room, sports themed or jungle? Choose a theme that will be welcomed by both of them.
2. Pick a color scheme
If you are not going for a themed room, then pick a color scheme. You can include both of their favourite colors in the color scheme or simply use neutral colors for the room.
Shared bedroom ideas for small bedrooms
A small bedroom does not mean that there is no need for creativity. This is the time to show the kids that you got some vibes within. Here are some things you can try if the shared room for your kids have limited space.
1. You can try bunk beds
Bunk beds for small room is one of the best ideas you can use. With bunk beds, the beds are on top of each other, so there is no use for extra space. You can still decorate each kids bed with their favourite things,
2. Use beds with storage
Since this is a small bedroom, you can also get a bed with storage space under it. That way you will have some extra space to store their toys and other things. And you wouldn't have to buy extra storage chests that will take up more space.
3. Consider sharing bed
You can simply let them share a bed, this way you will have enough space for other things. Like a little play area for them or a reading area. Sharing beds is a great idea. It is economical, saves you lots of money and also help create a deeper bond between kids.
4. Use trundle bed
Considering trundle beds is one of the best ideas you can try if you want to create more space for kids. They are the best solution for each kid to have their own separate bed in a small room. Especially when the shared room is just temporal.
With trundle bed, one bed is higher than the other and the shorter bed can easily fit under the higher bed, So all you have to do is push the short bed under the high bed in the morning to create more space. And at night you can pull it out for one kid to use.
SEE ALSO: 
BUYING FURNITURE FOR YOUR CHILD'S BEDROOM
EVERYTHING YOU NEED FOR THE PERFECT KIDS PLAYROOM
10 CREATIVE UNDERSTAIRS PLAYROOM IDEAS