Birthday parties are not exactly the easiest thing to throw. Planning parties can be stressful. So can hosting them, but they can be loads of fun when the day comes, and you see that you've made a success to hosting it for your kids.
The first step is to identify your goals for the party. Do you want it to be fun, relaxed, organized, or all of those things? Once you have a plan in mind, the rest is easy. A simple planning process is guaranteed to save you time, money, and stress.
Here is a guided checklist to help you plan the perfect pool party for your kids: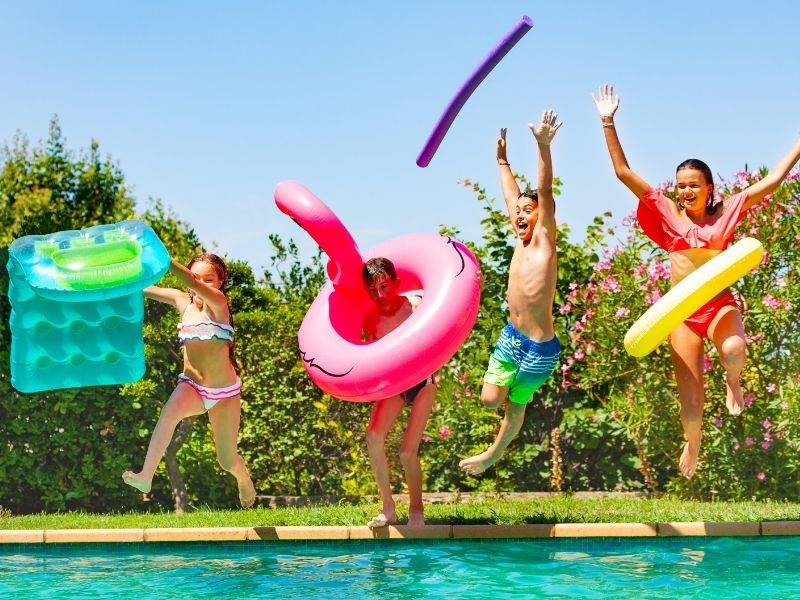 A Guide to Hosting Your Kid's Pool Party
1. Pick a Theme
While there doesn't always have to be a theme, it is encouraged to pick one so that the party is unique and aligns with your child's interests. You will also be able to plan well since you can align the decor, the games, food, and party favors according to the theme.
Here are some themes that are pool-party appropriate that your kids will love:
Under the sea
Mermaids like Disney's "The Little Mermaid"
A pirate adventure similar to "Pirates of the Caribbean" or "Captain Hook"
"Spongebob Squarepants"
Disney's "Atlantis"
Hawaiian-themed like "Lilo & Stitch"
"Finding Nemo"
2. Determine the Number of Guests
Once you've decided on a date, the next step is to figure out who you are inviting. Inviting friends to your child's birthday party is an exciting opportunity. You want to be sure that everyone on the guest list feels special and included.
But due to the pandemic, it's better to ask ones who are close friends with your kids. You don't have to invite the whole neighborhood, and at least three to eight guests would probably suffice. You can email them to kids' parents or send them via social media for less hassle when sending invitations.
3. Set Rules and Restrictions
Due to the pandemic, you should set up some rules for everyone's safety, especially since children are heavily involved with the event. You can obligate your guests to be fully vaccinated, including their kids. This shouldn't be a problem since there are now kid-sized doses of the Pfizer-BioNTech vaccine. Also, ask them to bring their bathing suits and sanitizers.
Establish other rules early on like no running, no pushing nor shoving, and no holding others underwater to avoid injuries for young kids. If you are hosting this in a rented pool and have the budget for a lifeguard, hire one.
4. Set Up the Pool
If you have rented a pool somewhere near you, be sure that you have the owner's permission to decorate it and that they're aware that you will be hosting a pool party. But if you plan to set up a pool in your backyard, better set up a space where kids can still sit and play and an area where the parents can look after their kids.
You will need an inflator or an air compressor to inflate your pool. The best type of air compressor to inflate your pool and other inflatables is an electric type that is easy to use and carry. There are air compressor rental options online that offer compressors for limited-time use. It is a good option instead of buying one to save money. Make sure that there aren't sharp objects around the pool while you inflate it. You can also roll out a mat to support the pool.
Related Posts
5. Come Up with a Menu
Next, come up with what food to serve. Every parent knows that picking out food is hard. It's even more difficult when there are allergies or dietary restrictions involved. You can contact the parents and ask them about it.
If you have an extra budget, you can order in advance and ask them to customize a menu fitting for your theme. Or if you have the energy to prepare, search some recipes online and come up with a menu that everyone will love.
6. Think of Appropriate Games
There are so many group games to play at a kids' party, but don't just pick any old game. Make sure it is age-appropriate and caters to group participation. You don't want others feeling left out. Party games are always a great way to get your guests in the festivities. Here are some of our favorite party games for kids that may be appropriate for a pool party:
Ring toss
Water gun wars
Pool volleyball
Scavenger hunt
Marco Polo
Coin dive
Bring me (pool version where they'd have to find the items in the pool)
Make sure one adult supervises every game to avoid injury and nothing gets out of hand.
Hosting a pool party is no easy task, especially when you wish it to be perfect. Still, it's a fun celebration that your kids will remember for the rest of their lives. Just remember to plan to avoid stress and ensure organization and safety.