Lighting plays a vital role in decorating your home. Even if your interior looks well organized, the wrong choice of fixtures, which involves not only bad lighting but also too many fixtures, can ruin the mood and deter you from staying indoors for a long time.
A reader of the famous Remodel site, John Gibson, recently referred to lighting as "useful but so misused". Oliver Freundlich, architect, best known as New York's favorite designer, said he sees himself as the Dictator of lighting in his office. He made some clear remarks that should help us better guide you in choosing the right type of light.
Here are some of his statements. It seems clear at first glance simple but it is more complex than it looks. Recessed light can offer the right balance and style no matter what form it takes: table lamps, sconces, candles or decorative pendant lights. It not only highlights the refined and modern rooms but also the ancient castles and churches.
Recessed light plays an extraordinary role because it is a complete set that helps illuminate your entire home. Before installing LED downlights, you need to know their features and use and how they can give you the best. It is necessary that you know the pros and cons or its different types so that you can make your choice for a particular place etc.
Recessed lights also called recessed spots are an excellent option since they illuminate a room by forming a beam and avoid invading the fields of vision or large usable areas of the room.
Recessed lights can be used as an indirect light, desk lamp, or task light to cover most of your lighting needs. When selecting, one cannot simply choose according to its wattage or a type of bulb. There are several factors to consider to get the best end result. (For more details about the benefits and the installation of recessed lights click here).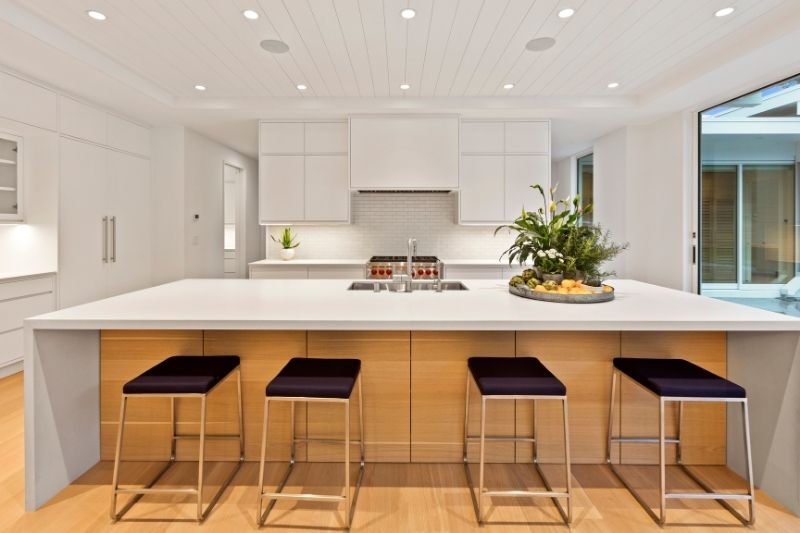 4 Factors to consider when installing recessed lights
Recessed Light Layout
Placing LED recessed lights in the right place in a room brings out the best lighting for that room. First of all, there are the wall washers which serve to illuminate the walls, and not the floor.
These recessed lights are available in various configurations and are normally placed 15-20cm from the wall, depending on the height of the ceiling. The light then bounces vertically around the room, giving an effect that allows your eyes to focus on an object.
Recessed lighting has everything you need aesthetically. But the recessed LED lets you focus more on objects, like a painting on the wall or a sculpture placed in the room. This is a good tip for directing your gaze from one object to another.
Besides wall washers, recessed spots play a different role in highlighting a particular object in a room. Their narrow light beam can be adjusted to illuminate a particular area or corner, or even a piece of furniture, such as a dressing table mirror.
LED recessed luminaires can be placed in different corners to help better illuminate a dark room. It depends on how many LED recessed lights you need. The more lights you place, the brighter your room can be. You can place replacement lights to improve the brightness and appearance of your space.
Choosing Right Style
Another essential fact is choosing the right finishing style for the decor of the room. There are different styles, shapes and sizes of finishes. They also enhance the beauty of the fixtures, especially when it comes to LED recessed lights. Wood ceilings can be best fitted with high-end fixtures with metallic trims.
There are also borderless installations which give a homogeneous appearance to the ceiling. For example, one can use LED recessed lighting with two recessed circular borders in white and satin brass. Or in two square options in satin nickel and oil rubbed bronze.
Related Posts
Color Temperature
The next highlight is choosing the color temperature of the LED that would best suit your room. The best choice would be the warm glow of incandescent and halogen lamps.
There is a wide variety of LED downlights available in the market from multiple manufacturers, but it would be wiser to test the quality first before purchasing. For residential applications, the hottest LED available is preferable.
Installing Dimmer (the best advice ever)
This last advice is to be applied and that you should apply whether you have put the previous ones into practice or not. That is, installing dimmers on almost all the lights in your house. Imagine having the option of adjusting your lights to varying degrees of intensity depending on the moods or atmosphere of your home.
This is beneficial not only for entertainment purposes, where you might prefer bright, higher intensity lighting, but also when you want to relax on your bedroom balcony with a nice cup of tea. In addition, dimmers extend the life of your LED by up to 10%.
For LEDs, you need a special low voltage electronic dimmer rather than a standard low voltage magnetic dimmer. You should check the type of transformer your LED uses before choosing the dimmer.
Conclusion:
If you would like to give a decent look to your place and decorate the area without much fancy lighting and want to avoid pendants and chandeliers you just need to follow the above-mentioned tips and you will achieve your goal to decorate your room in an elegant style.
You can select the color temperature as per room requirement and by matching the wall colors like for darker shades you can get the brighter color temperature. For your bedroom, you can have 3000K to 4000K color temperature for decent lighting with traditional touch.
Dimmer will help you to change the mode of your light as desire. For a romantic dinner, you can have 2700K and for a family gathering, you can have 4000K. Make a perfect choice and illuminate your home in a beautiful way.