Within this current time, many of us have shifted our little offices to homes and chose to Work From Home. This might help us to work from our comfort zone, but it does affect our interior decorum because at offices everything is created with durable material that can easily be used on a daily basis without any damage.
However, our constant working routine has disturbed our surroundings. Have you ever noticed your floors? Due to constant chair movements, wheels may ruin your flooring! We got a solution- A glass chair mat! 
To be used in executive workplaces and high-end, luxurious homes. The toughened glass flows like a dream. The scratch-resistant construction of a tempered glass chair mat protects your floor while maintaining a silky smooth surface for your chair. It is made of a sturdy material that can hold up to 1,000 lbs. Let's explore what kind of chair mats are available and how to choose the right one! 
Varieties Of Chair Mats
Won't you prefer working in a comfortable environment without letting anything ruin it? Here are some common choices of chair mat material that are suitable for different scenarios. 
Plywood Chair Mat
Hardwood plywood can be used to make a chair mat that is even more simple, while still preserving the natural beauty of hardwood floors. You may find it a pretty affordable option and easy to work with but it may block the flow and natural brightness of your space. So, if you don't have any such issue, go for it! 
Polycarbonate Plastic For Chair Mat
In terms of residential and business flooring, polycarbonate is unmatched in terms of clarity, quality, and long-term usability. As far as chair mats go, polycarbonate is the strongest and most long-lasting option, and it can be recycled on its whole. You can literally avoid curling of mats, cracking, scratches, and discoloring. 
Tempered Glass- Preferred Chair Mat! 
The use of a glass chair mat will not only prevent uneven wear on your carpet or scratches on your hardwood floor, but it also has the potential to make you feel more comfortable. If you are utilizing it, your chair will glide around more easily than if you were attempting to roll it on the carpet. This will result in your chair jerking around significantly less.
PVC- Commonly Used! 
An inexpensive and long-lasting floor protection material is PVC (Polyvinyl Chloride). Unlike Polycarbonate, our PVC formulation is a cost-effective option. The quality chair mats that are made of PVC which is free of Phthalates work best for some users.
Related Posts
Benefits Of Glass Chair Mat
Glass Chair Mats Are Anti-scratch!
Using a glass chair mat might sound ridiculous as one might fear breaking the glass or even scratching it. But you need not let that be your problem as glass chair mats are anti-scratch.
It can Hold Maximum Weight!
Office chairs can be bulky. Glass mats' weight concerns many business owners and the anxiety is well-founded since sitting on glass tends to break it. Glass chair mats have a high weight restriction and are heavy-duty.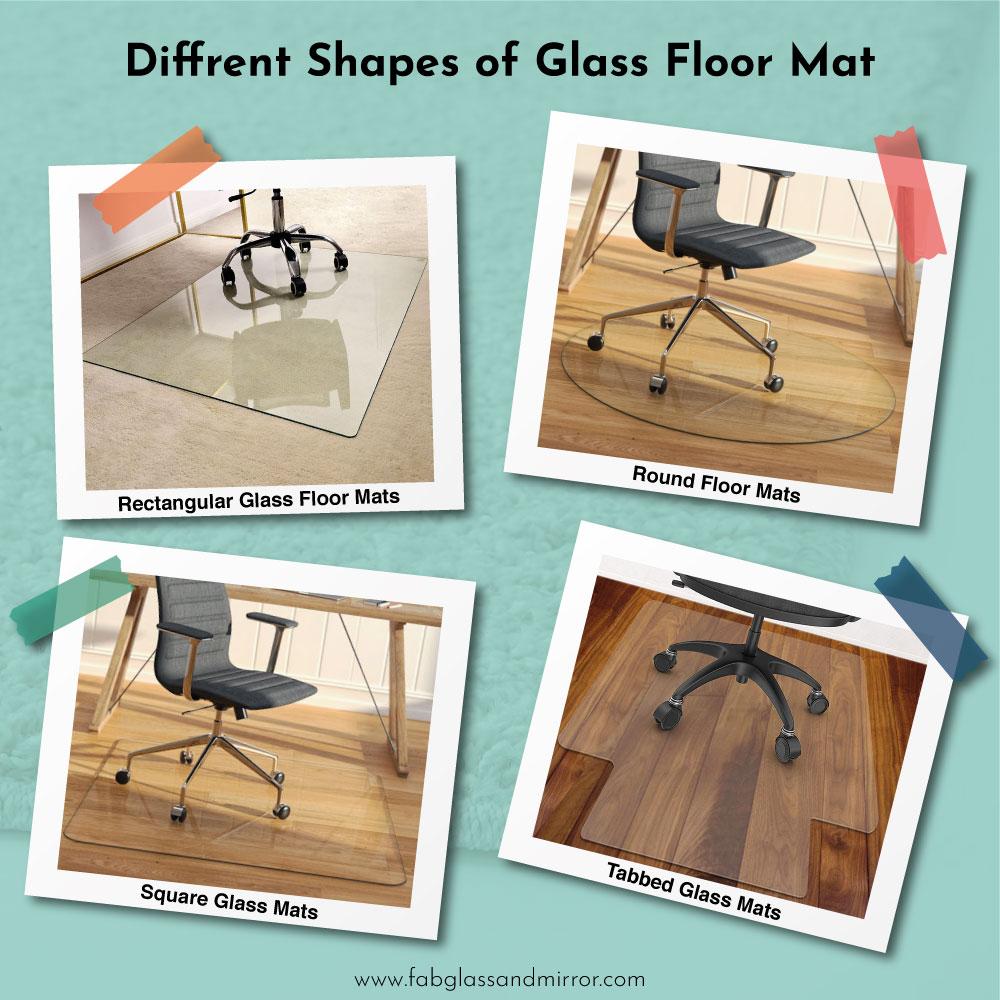 Endless Sizing Options!
The shape of the glass mat may be a hindrance for you. A typical huge square mat may not be suitable for all types of rooms. Cubicle size, form, and the presence of other items like filing cabinets all contribute to this. This means that the design of the mat is essential to safely fit into the cubicle areas that you have available. 
For some business owners, having a variety of glass mats to choose from is a major perk. This gives you more freedom to experiment with the size, shape, and design of your cubicles rather than being forced to go with a predetermined solution.
End Lines!
Rolling a chair on a mat is 80 percent easier than doing it on a carpet, which is another benefit of using chair mats. On the other hand, rolling around on carpet all day might lead to back and leg pain and fatigue.
It's also worth noting that the carpet generates static electricity. Your computer or other electronic devices could be damaged if they are exposed to static electricity from an anti-static chair mat.