The dining room is where we display our home's most valuable possessions. It's where we display lovely antiques and install various types of lighting. So it's important to make your dining room's walls more attractive and admired by those who enter your home.
We recommend that you use stunning dining room wallpapers for your dining room. Wallpapers may provide a touch of freshness to the ambiance in your dining room and even the entire house, from leave papers that bring nature into your home to metallic papers that match your chandeliers.
When wallpapers are used for your dining room, they create a pleasant atmosphere and provide entertainment for any dinner guest.
Dining Room Wallpaper Ideas For A Wonderful Dinner
When it comes to decorating our homes, we often look for ways to make each room unique and inviting. The dining room, in particular, is a space where we gather with loved ones to share meals and create lasting memories. Adding a touch of style and elegance to this area can truly elevate the dining experience. One way to achieve this is by incorporating dining room wallpapers.
Wallpapers have made a triumphant comeback in recent years, with sophisticated designs and versatile options that can transform any space. Traditionally, wallpapers were used in living rooms or bedrooms, but now they're finding their way into dining areas as well. Let's explore the benefits of using wallpapers in your dining room:
5 benefits of dining room wallpapers
Instant Impact:
The dining room serves as a focal point during gatherings. By using wallpapers, you can instantly create a statement wall that will captivate your guests. Bold patterns, such as florals or geometric shapes, can add a dramatic touch to the room. Alternatively, subtle textures or metallic finishes can create a more understated but elegant ambiance.
Versatility:
Wallpapers allow for endless possibilities. Whether you prefer a classic, contemporary, or eclectic style, there is a wallpaper design to suit your taste. From intricate damask patterns to modern abstract designs, you can find a wallpaper that complements your existing décor or create a fresh new look.
Hide Imperfections:
If your dining room walls have minor imperfections or wear and tear, wallpapers can provide a quick and effective solution. They can hide blemishes, cracks, or uneven surfaces, giving your room a flawless finish. Additionally, wallpapers can protect your walls from further damage while enhancing their aesthetic appeal.
Enhance the Mood:
The ambiance of your dining area can be greatly influenced by the color and design of the wallpapers you choose. Blues and greens can create a calm and serene atmosphere, perfect for relaxed meals, while warm colors like reds and oranges can energize and stimulate conversation during lively gatherings. Consider the mood you want to create when selecting your wallpaper.
Easy Installation and Removal:
Modern wallpapers are designed for easy installation and removal, making them a convenient choice for transforming your dining area. With the help of a professional or even a motivated DIYer, you can have your wallpapers up in no time. And if you ever decide to change the look, they can be easily removed without damaging the underlying wall.
When selecting dining room wallpapers, consider factors such as the size of the room, the amount of natural light, and the existing furnishings. Opt for wallpapers that complement your dining table, chairs, and other accessories, ensuring a cohesive and harmonious overall design.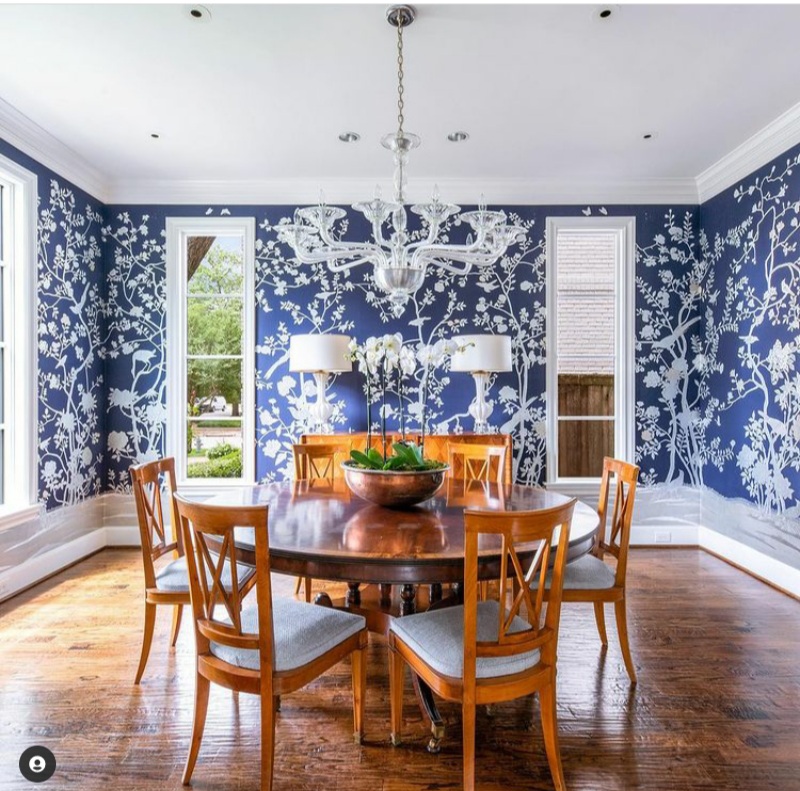 Remember, dining room wallpapers are not limited to just the walls. They can also be incorporated into other elements like feature panels, ceiling accents, or even integrated into furniture design. With a little creativity, you can truly transform your dining area into a space that reflects your personal style and enhances your dining experience.
In conclusion, dining room wallpapers offer an exciting opportunity to decorate your space with style and elegance. From creating a focal point to hiding imperfections, they provide versatile and impactful solutions. So, why not dare to be bold and adventurous with your dining room décor? Explore the world of wallpapers and unlock the true potential of your dining area. After all, the joy of sharing a meal is best experienced in a space that is beautiful and inspiring.
Related Posts